Paweł Bołtryk Heban – "Hortus Conclusus"
13 stycznia - 4 lutego 2011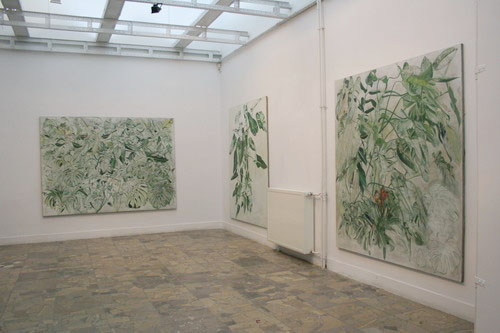 Wystawa prezentuje cykl 6-ciu prac analityczno studyjnych w dużym formacie, malowanych z modela, którym jest filodendron i nawiązuje do tradycji "ogrodu zamkniętego" popularnego motywu w ikonografii średniowiecznej. Podobnie jak rozwijają sie rośliny i całe życie, prace są najczęściej zakomponowane w oparciu o ruch odśrodkowy, od wnętrza do krawędzi obrazu. Na powstających przez szereg miesięcy płótnach, niczym w malarskich stop klatkach, utrwalona zostaje dynamika wzrostu kwiatu – ruchu łodyg i pędów. Powstaje biokosmiczny spektakl, w którym poszczególne liście pełnią określone role. Bogactwo złożonych relacji przestrzennych przywodzi na myśl rozważania Johna Ruskina o uniwersalnym porządku praw natury. Świat natury i sztuki przenika sie, granice ulegają zatarciu. Z tego dramatycznego splątania powstaje heroiczna opowieść – pytanie o odwieczną tajemnicę życia.
Paweł Stanisław Hebanowski. Warszawa,10.12.2010 r.
The exhibition features a cycle of six large -format analytical works painted directly from nature. An art model is the philodendron here. The title refers to the tradition of "he enclosed garden", a popular motif in the medieval iconography. Following the development of a plant and life as such, the paintings grow from the centre of the canvas to the edges, based on the centrifugal motion. The canvases , which were painted for months, are like frozen film frames that register the dynamics of the plant growth, the movement of the stem and leaves. This creates a bio-cosmic spectacle with individual leaves playing specific roles. The diversity of complex spatial relations alludes to John Ruskin?s discussion on the universal laws of nature. The world of art and nature interpenetrate and the line between them is blurred. This dramatic entanglement results in a heroic story and a question about the eternal mystery of life.
Text:P.S.Hebanowski,E.Supinska.Tlum:A.Krysinska
Paweł Bołtryk Heban studiował na Wydziale Malarstwa Akademii Sztuk Pięknych w Warszawie w pracowniach Haliny Chrostowskiej, Mariana Czapli, Tadeusza Dominika i Stefana Gierowskiego.
Ważniejsze wystawy indywidualne:
Philodendron Hastatum, Galeria 3A, Warszawa, 2004
Monstera Deliciosa, Galeria 3A, Warszawa, 2007
Ucho słonia, Galeria Na Spokojnej, Warszawa, 2009
Ważniejsze wystawy zbiorowe:
Projekt Visum, Berlin
Consesuencias, Ketlle's Yard, Cambridge
Ecce Homo, Galeria Studio, Warszawa